What is
Wiang Kum Kam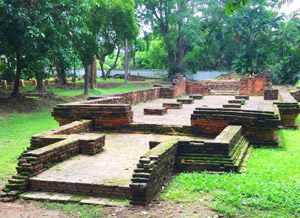 "Wiang Kum Kam the Ancient Underground City" The first capital of Lanna

The strategic city of Wiang Kum Kam was founded in 1286-7 A.D. by King Mangrai, widely famed as a brace and just monarch. He came from a long line of rulers who emerged from Laos and then settled in "Yonok" - nowadays the topmost part of northern Thailand. Aged 21, Mangrai forcibly curbed the warring activities of local chieftains and soon established the northern city of Chiang Rai. He progressed south to Fang and his army finally took Haripunchai (present-day Lamphun) in 1281 A.D.

Wiang Kum Kam was established as the pivotal riverside trading hub of Mangrai's kingdom, after severe flooding overtook a previous site. A moat was dug around all four sides of the city. An extensive royal palace was built. Then priority was given to construction of a market - place. Many coats converged on the city for purposes of trade. Pleased, King Mangrai ordered the building of imposing Kuu Kham temple (Wat Jedee Liam) for public veneration. Friendly, powerseeking expeditions by the king led to peace offerings from neighboring states: firstly, a beautiful royal bride and then came hundreds of expert crafts-men - goldsmiths, bronzesmiths, ironsmiths etc. In thanks for this good fortune, significant temples were built.

Heeding auspicious signs, King Mangrai established Chiang Mai in 1296 A.D. but he continued to visit his palace at Wiang Kum Kam. The city remained an important satellite to the new Lanna capital and many temples were erected by succeeding rulers, notably King Tilokarat (1445 - 1525 A.D.)

After much unrest, the Burmese invasion around 1600 A.D. put an end to the Lanna Kingdom. At Wiang Kum Kam the river changed its course and much of the city was destroyed by severe flooding, leaving the ruins buried deep under silt. Many years later, the area was repopulated with people from the north - hence the peculiar nick-names given to some of the temple remains. The site was later excavated and it became popularly known as the "Ancient Underground City".